Nice is what it's all about
Upon returning home from work on Monday, I found my 'bottle' waiting for me. I left the groceries in the car and raced inside for the glorious moment of opening up my treats: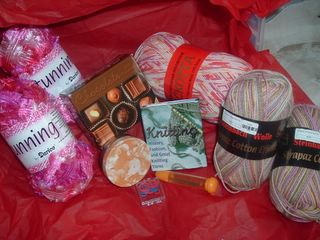 Debra sent me some amazing things. Some pink yarn that will become a scarf; a chocolate calendar (every day next year there will be chocolate!!); some Sockotta yarn in whites and pinks; 2 skeins of Steinbach wolle which is made in Austria (where I spent a good chunk of my childhood); a cute little knitting book; a yummy banana-muffin candle; some of my favorite little stitchmarkers; and one of the new Chibi's I've been really wanting. She also included a set of yummy lotion, body scrub, and body wash that is already in my bathroom and a really cute ornament that is already being used as well. I love it all. Thank you so much Debra!
Just like everyone else's, life is busy around here. I did my last Christmas shopping yesterday and am now going to avoid the stores. I hate how people seem to forget to be nice around this time of year.
Thankfully my brother and father are incredibly sweet men who spend the better part of yesterday giving me more insulation in my attic:
Little brother and all the fun floating stuff in the air. (Can I still call him little even though he is 25? hehe).
And even though I told my Dad to make a 'normal' face, he has apparently been around my kids too much:
Do you see all that stuff all over him? My kids had fun vacuuming it up all over the house. The best part was going to bed and realizing we were actually really, really warm. In the middle of a winter snow warning. After I had already turned down the heat lower than it's been all fall.