Early Christmas gifts
So much knitting going on, yet so little I can show you! I did finally finish my cowl:
It remains unblocked, because it is
cold
and I've been wearing it. I also came to the conclusion that messy hair is worth the warmth this provides.
Pattern:
Beaded Smoke Ring
. I did not add the beads and did not do the pattern on top. I didn't like how I couldn't get the yarn-overs to match.
Yarn: It's the Target yarn! I loved the color and once they went clearance I caved in and bought some. The total cost to make this? $2.10.
I also received 2 early Christmas gifts. The first one is my early Christmas gift from God:
A loveseat that is identical to the couch I used to own and loved. The couch and loveseat I have now is not that comfy and on the many days that my muscles are hurting me, they are impossible for me to sit on. I just happened upon this loveseat, being given away for free. It seems to be a gift from my heavenly Father, allowing me to once again be comfy in my living room. My sons are excited because we now have a couch and 2 loveseats, leaving a spot for each of us...hehe.
My other early gift came from my knitting buddy: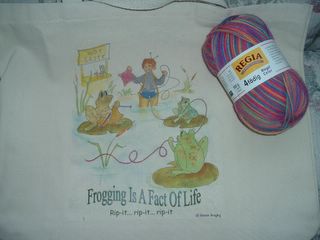 It's a knitting bag and yarn. I had been really wanting some fun sock yarn and she seemed to read my mind. And I love the bag! I think the girl looks like me too: with her hair-bun, the pink knit in her hand, and the coffee. Thank you so much Maureen. I can't wait to see how you will like your gift.