A rug
Remember my brother's wedding? Remember the rug I was knitting them? (Wedding pics in the
June archives
. Rug pictures are in the
July 21st entry
).
One of my lovely personal flaws is that I seem to be behind in gift-knitting
alot
. Granted, it may be because I knit pretty much all the gifts for everyone in my family. Or it could be because I am always trying to knit 3,4,5, ok 8 things at once.
This rug though was fun to knit for several reasons. For one thing, I know that my brother and his wife like my knitting. (My brother wore holes in the first pair of socks I knit him. That has probably been the biggest compliment I've ever gotten about my knitting.)
Another reason the rug was fun, was because of the constant color change and the way the rug is set-up. Gotta love it: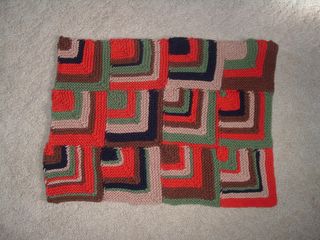 (warning: rug is not blocked, cause that would have required leaving enough time for it to dry and I seemingly am incapable of that too. My mom is bringing them the rug and will block it there though)
The ends were a pain though. I think it took as long to sew them in as it did to knit. The next time I knit this rug, I'll make each square just
1
color. Although when I said this to my Dad, he thought it would take away the artistic feel of the rug. (how sweet is my Dad?)
The details: pattern is free from
Interweave Knits
(pdf file). I used Sugar & Cream yarn. I didn't follow the pattern exactly, choosing colors that fit my brother and his way and tried to avoid a few of the extra ends their pattern called for. I also have 1 less row.