Wrong knitalong and more socks
Although I figured out the measurements, drew up a picture, and did more math for my Cable 8 - I cast on for the wrong knit-along! And I'm not even signed up for
Laura's Hayden-along
.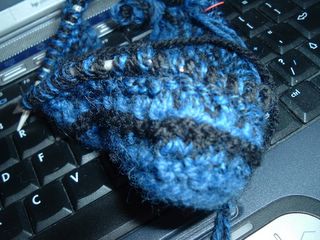 (note the too lazy to get up and take a picture away from my laptop pose). So, what went wrong? Well, I suddenly looked at my knitting, looked at the sock that will need frogging again (scroll down for pic), looked at the Berroco-softwist tank that is just not knitting up to be the beauty that I know it's capable of being, and lost my mojo. (I may be using the term wrong, but just pretend it's correct. I turn 30 next month and am desperately trying to show that I have some semblance of a cool person left in me). I sat there not knowing what to do. How could I not be desperately trying to complete another knitting project in the attempt to beat my own self-inflicted dead-lines? All the projects I had been dreaming about, planning, trying to design suddenly no longer appealed to me. I was worried about myself.
So, I did what any desperate knitter would have done. I cast on for a quick "show me I still got it, let it be done quick, and be a little more complicated than plain stockinette" hat. And after watching the Season Finale of Gilmore Girls while knitting on the hat, I was back to my old "I can't spend a minute without knitting needles in my hand" self. Even my kids were relieved.
So scroll down for 2 pics of socks and I'm off to bond with Hayden-brought my mojo back-hat at the doctor's office.